Creating Digital Connections
Give your customers and operational teams the ability to trigger powerful digital workflows by simply scanning a QR code with a smartphone.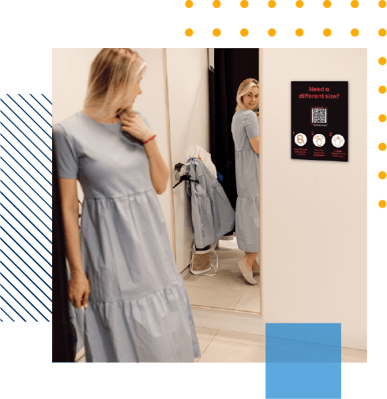 First Step in Digital Connection
With a digitally connected frontline, organizations can utilize QR technology to create short-term digital connections between targeted store employees and the user who scans a QR code. This simple process enables users to request higher service levels, launch unique in-store experiences, or get the help they need fast.
The Theatro QR Code Engine
The Theatro QR Code Engine (QRCE) serves as the digital interface to many workflows that originate from a customer or employee QR code scan. Once scanned, the QRCE triggers an app or a digital workflow on the Theatro Mobile Communication Platform to achieve the desired outcome in the store. Check out the lists below to discover how you can leverage the QRCE in your stores!
Customer Scans
Customer Assistance
Locked Cases
Fitting Rooms
Backroom Stock
Curbside Arrival/ BOPIS
Customer Feedback
Operational Scans
Vendor or Visitor Arrivals
Front or Backdoor Unlock
Check-in/out of tasks
Product Feedback
Check-in/out Equipment
Safety or Compliance Reporting
Key Components of the QRCE
The configurable smartphone browser UI that can include any array of single or multi-step requests to initiate a workflow.
An employee in-ear workflow
The in-ear interactions an employee hears once a workflow has been initiated via a scanned QR code.
The real-time data and insights that leaders can leverage to compare and optimize QR codes and employee response times.
The Benefits of QR Codes
Unlike static hard buttons, which require support to change or move, QR codes are dynamic and can be easily edited, moved or redirected to different information. With the Theatro QRCE, organizations can quickly implement QR codes anywhere inside or outside the store and enable their digitally connected frontline to:
Provide faster service where the customer requests it
Initiate personalized customer experiences
Improve conversion by reducing cart abandonment
Streamline operational efficiencies for employees or vendors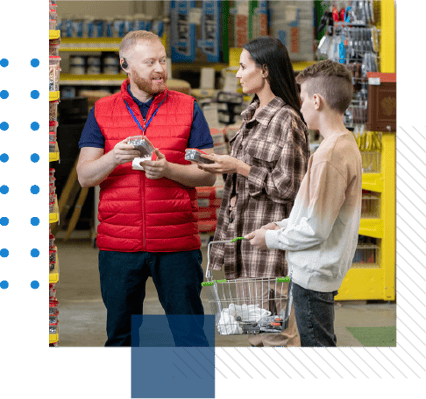 Creating Digital Connections with QR Codes
Discover how QR codes can be leveraged to invite customers to take the first step in digitally interacting with store teams.
Ready to digitally connect with your shoppers?
Schedule a demo to see the Theatro Mobile Communication Platform and QRCE in action! We'd love to show you how easily you can leverage QR technology to streamline operational efficiencies and enhance your overall customer experience.